Nas Daily is looking forward to a redemption arc!
Content creator Nas Daily who was under fire for alleged 'exploitation scheme has shown proof of his business' legitimacy.
In Hyprgame's recent report, Nas is allegedly using Whang-od's name for his masterclass without her consent.
The issue started after Whang-od's niece posted a status warning people about Nas' alleged "scam".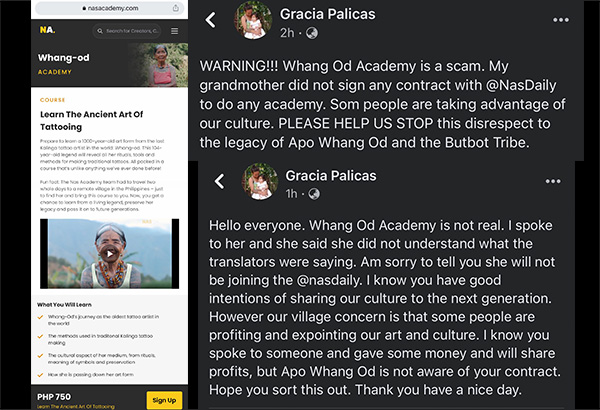 A day after going viral, Nas has now spoken to clear up the issue.
According to the Palestinian-Israeli vlogger, his company approached Whang-od and have acquired her permission.
Nas Explains their Situation
"We approached Whang-Od because just like you, we love her. We love her traditions and are inspired by her. (The team) wanted to share her culture for future generations to appreciate and respect the ancient Kalinga tradition of mambabatok." their explanation read.
In addition, their explanation clarified that Estella Palangdao, the niece, was even present during their meeting.
"As a matter of fact, Whang-Od's trusted niece, Estella Palangdao, was present and translated the content of the contract prior to Whang-Od affixing her thumbprint, signifying her full consent to the project. This is the clearest evidence that it is not a scam and achieved the consent of her and her immediate family," they told.
More so, the company also clarified that everything that Whang-od and her team are doing was compensated.
"Everybody was compensated for their time, and for every sale, the Whang-Od Academy generates, most of it went directly to her and her family. We just provided the technology and the marketing," they revealed.
Additionally, Nas Academy mentioned that the issue was very personal to them as 40% of their employees were Filipinos.
The company expressed its disappointment regarding the alleged "false" news being thrown against them.
Nas Academy told that they have temporarily removed "Whang-od Academy" from their program. This is at least until the issue gets cleared and resolved.
Follow Hyprgame on Facebook, Twitter, and Instagram for more esports updates!